UNIPAL, THE IDEAL PALLET: STRONG, LIGHT AND RECYCLABLE
Not a long time ago, the pallet was a production item that wasn't really highlighted in businesses, however, now in Santorromán we offer you new advantages of its use, with our exclusive ideal corrugated cardboard pallet product.
The corrugated cardboard pallet is the best option to substitute traditional pallets and it fits perfectly for export purposes, for the following reasons:
It is light
It is resistant
It is hygienic
It is 100% recyclable
It is biodegradable
It meets to the NIMF 15 Regulation, which makes it ideal for the transportation of goods, either for national and international markets.
The UNIPAL Cardboard pallet is the most efficient solution for shipments up to 800Kg.

UNIPAL advantages
Innovation

It is a product totally adaptable to new shapes and sizes, according to the characteristics and specific needs of the packages. Beyond that, it is customizable, which makes it an accessible branding support of the company's brand strategy.

Convenience

Due to its lightness it makes it easy to handle, generates less work load and by the end of its useful life it can be deposited into a paper and cardboard container.

Efficiency

From its original design, structure and lightness, the UNIPAL is usable by any type of transportation. It is specially suitable for air shipments, as well as for products with a big volume and low weight, products that also require fixed pallets with boxes or even for direct exhibition at the selling outlets.

Economical

It is lighter than other materials, which reduces the transportation costs and besides that, since it has a single use purpose, it does not incur any storage costs within the destination. It doesn't require any sort of chemical treatment (cleansing, dewormed, etc.) and it is totally recoverable.

Security

The UNIPAL does not generate splinters and does not contain nails or staples to attach its parts, which reduces the risk of occupational accidents.

Sustainable

It contributes for a sustainable development, from its fabrication until its completion – "from cradle to grave". By being lighter than other materials, it contributes to the international environmental protocols compliance, concerning energy savings and the reduction of polluting emissions within transportation, along with being manufactured with renewable and recyclable fiber.
A VERY ATTRACTIVE/APPEALING ALTERNATIVE
Ecological
Built from 100% corrugated cardboard, this pallet is completely recyclable comparing to the wooden returnable pallets, that are expensive due to the inconvenience of returns and difficult to get rid of without high costs, and also has negative environmental effects. Its easiness of recycling and mainly its lightweight, helps in the accomplishment of the Act 11/91 of 24 April 2000: Planes Empresariales de Prevención de Envases y Residuos de Envases / Business Plan of Container Prevention and Residues.
Trustworthy
Independent trials have proven the pallet design. It fulfills its mission with excellence with a proper usage.
Safe
No nails or splinters, combined with a very light structure, our pallet provides plain security to both workers and product.
Exclusivity
Cartonajes Santorromán is the only UNIPAL cardboard producers in Spain.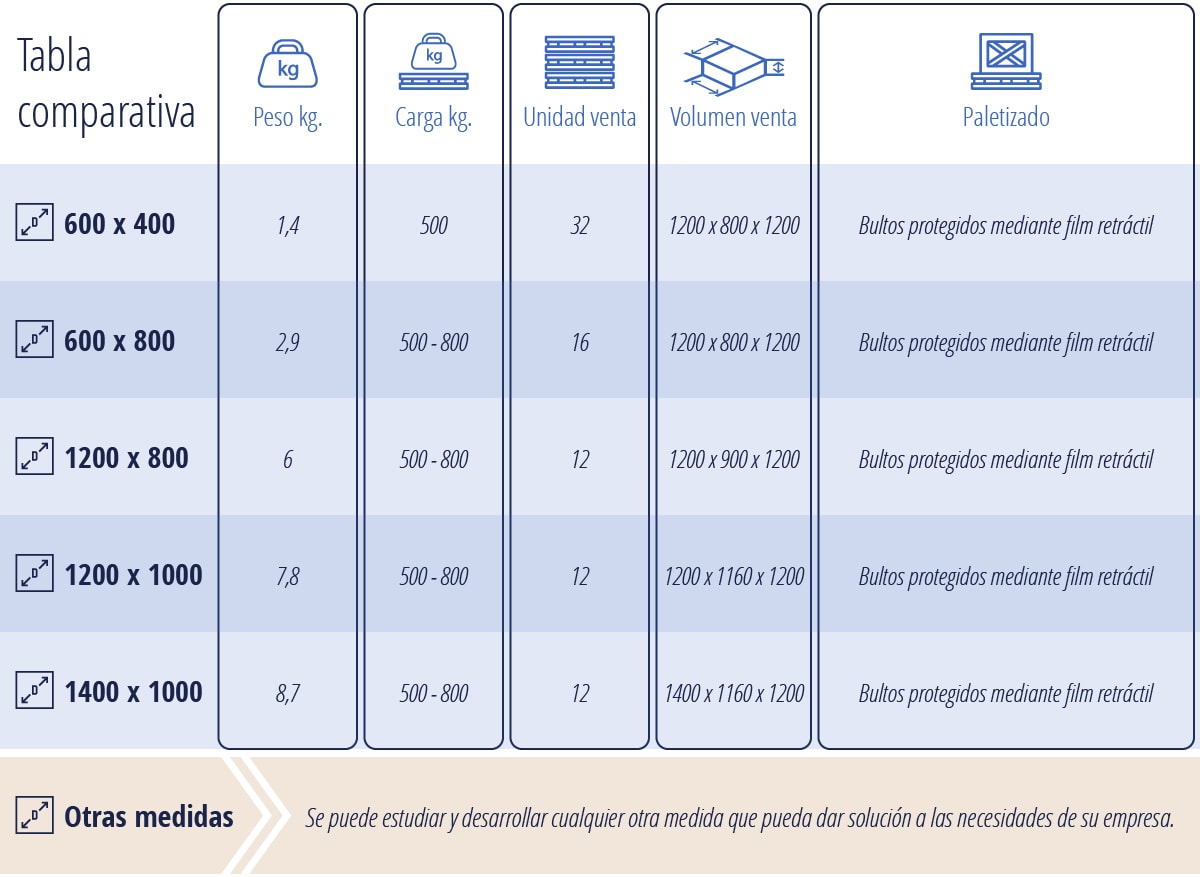 Factory I and Headquarters address
Ctra. Zaragoza, 32
26500 · Calahorra · Spain
Factory II address
Polígono Industrial Tejerías Norte,
Calle Campobajo s/n.
26500 · Calahorra · Spain